Paintings created by artist Joe Synan
Joe Synan's interests in landscapes, seascapes, mountains, wildflowers, and native animals reflect his lifelong passion for being outdoors, and a special place in his heart for the wilderness.
Joe daily runs or bikes among the woods and lakes near his home in Kingwood, Texas. Every winter his training for marathons takes him deep into the East Texas woods, and every spring his cycling takes him through the best of Texas wildflower country.
Joe has explored the American wilderness, hiking in many different mountain ranges in his quest to ascend to the highest peak in every US state. His formal education has been in architecture, engineering, and theology.
Since 2001 Joe has been a watercolor student at the Glassell School of the Museum of Fine Arts Houston, where his mentor and teacher has been Arthur Turner. Joe has obtained additional training at the Truro Center for the Arts and Chatham Arts Center on Cape Cod, at the Anderson Ranch in Colorado, and at the John C Campbell School in North Carolina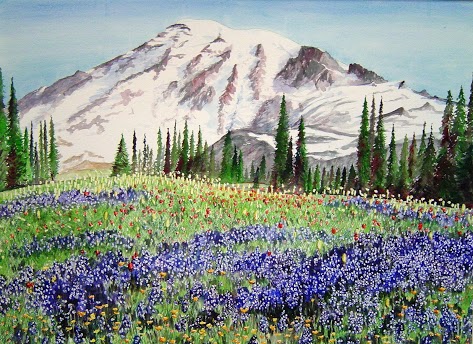 Joe is a member of the Watercolor Art Society of Houston, and has obtained recognition in  the Art Society's juried competitions. Joe paintings have been shown in the Canal Street Gallery and he has exhibited with the Museum District Artists' Guild in Houston. Joe's paintings were selected for exhibition in the Woodlands Waterway Arts Festival, rated as the ninth best Arts Festival in the country.